The replication stretches
The 'BrennerLEC after-LIFE' project envisages, among other things, the application of variable speed limit measures for traffic and environmental purposes on the entire Alpine section of the A22, i.e. from Brenner to the intersection with the A4 motorway, in particular:
- variable speed limit reduction for traffic purposes: extension to the entire section on both the southbound and northbound carriageways, with initial focus on the Vipiteno-Ala section. A gradual integration of the hard shoulder running measure is also planned when technically ready to be tested;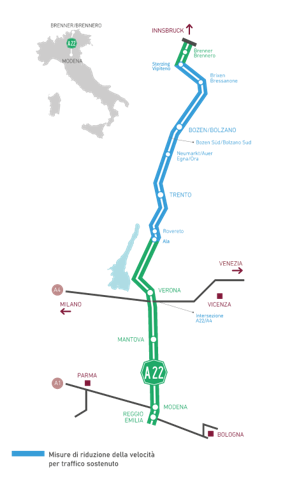 - variable speed limit reduction for environmental purposes: application to the urban sections of the A22 in correspondence with the cities of Bressanone, Bolzano, Trento and Rovereto; the pilot section of the Bassa Atesina activated in the BrennerLEC project is maintained to protect the town of Egna.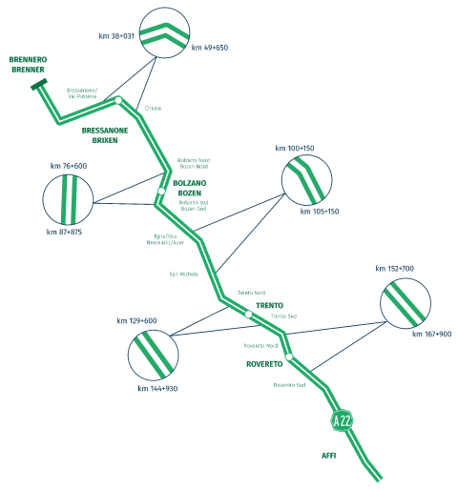 The third measure concerns the integrated traffic management between motorway and city, e.g. the application of the Urban Pass measure in Bolzano, Trento and Rovereto. The activation of the measures is dynamically determined with the aid of a complex diagnostic and forecasting model, which is able to assess current and forecast traffic and air quality conditions. This model was developed within the BrennerLEC project and is continuously refined and improved through the BrennerLEC after-LIFE project. The measures are gradually being introduced from early 2023.